I am crazy for Prem aka Main Prem ki Diwani Hoon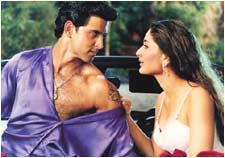 Could the title be any more Cheesier....???
Watching this movie was a deliberate plan of ours(Naira - a friend in Lancaster and me) to experience the Horror of a bad Bollywood Movie.I had endured the torture years back when I had watched it for the first time.
The setting of the movie is in "sunder Nagar" supposedly a small town somewhere in India. The small town not only has bungee jumping facilities but has snow clad mountains the size of ALPS and Coral Reef at the same time....isn't nature wonderful...I mean WOW is the word that comes to my mind. The place needs to be checked definitely for property prices...
I know I know... Suraj Barjatya tried to make the scenery at least pleasant for the viewers...
The torture..oops, the movie begins with Sweet albeit a saucy Kareena-Sanjana who is a girl of today's generation...who wants to live life as per her own terms.Her mother however wants her to get married to a rich bloke (Abhishek) named Prem.
However in his place comes Prem Kishen (Hrithik) to sunder nagar for some work.Prem Kishan is working for Prem...confused are you?...Hrithik is working in Abhisheks company in US of A.
Not to worry...Sanjana's parents also get confused about the Prem chap and try all their wily tactics and ultimately Sanjana falls in love with Hrithik(Prem Kishen).
Hrithik is an eyesore and earsore ....he seems to be always High on some type of drug. If you want to see someone overact watch Hrithik, he has overdone his Easy come -Easy go Character. Kareena absolutely pales in comparison. In fact I warmed towards her a bit in this movie...
The Happy Happy scenes and the overdose of Auntyji and Uncleji makes you want to pull your hair out. Kareena's onscreen mom needs two tight slaps to bring her to her senses. And what can I say about the dumb bimbos who are Sanjana's friends.
The songs are bearable. At least they are a welcome break from watching Hrithik make a complete fool of himself.....
Ok now after my rantings...lets continue with the story...
So Premkishen and Sanjana are totally in Love. Then comes trouble when Sanjana's parents come to know of the mistaken identity funda...and when the real Prem lands there...they try to convince Sanjana to marry the rich bloke..
And when Hrithik comes to know he runs away and tries to avoid the situation....what a loser...(Supposedly trying to be loyal to his boss).
Thankfully Abhishek is the saving grace...no hyperactive jumping around and acting like a buffoon. When he comes to know of the truth , he unites the two lovers...and thats the end of it....
The only smile I got in the movie was from one scene when Sanjana's mother is teaching her how to smile...coyly...
Oh how could I forget Raja -the parrot (poorly animated) and Johnny - the dog, Raja can say names of movies and people in the movie actually have conversations with it.....wowee what a parrot...the only intelligent one in the whole movie.And the dog was just there....
Its a movie to be seen when you want to have a few good laughs at other people's expense and also when you get to watch it for free.